Call for Papers (CfP): Special Issue Enterprise-Level Information Systems Research
2023-02-16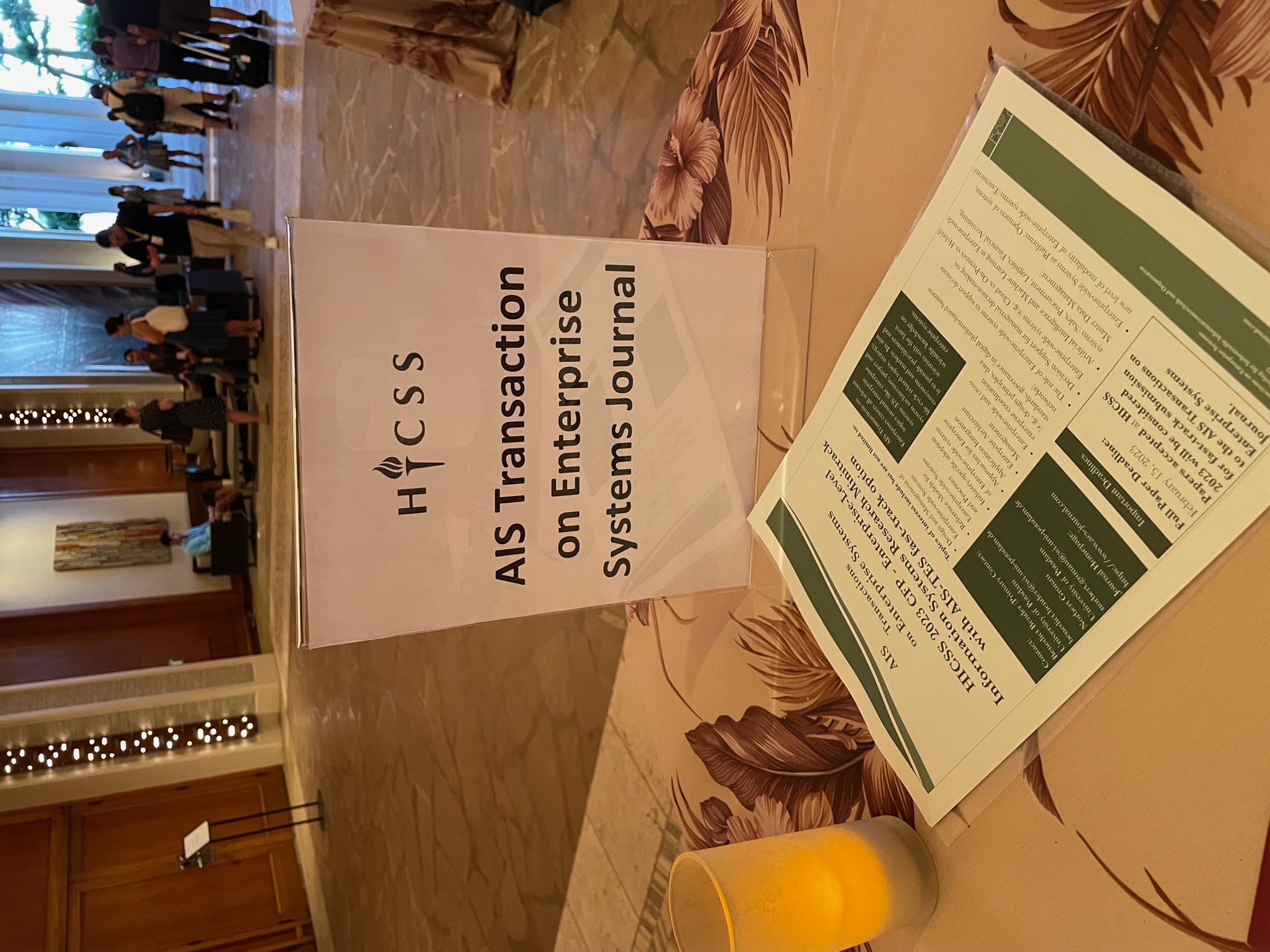 The LSWI research group of Prof. Norbert Gronau and the Journal AIS Transactions on Enterprises were present at the Annual Hawaii International Conference on System Sciences (HICSS 56) in January 2023 with the Minitrack Enterprise-Level Information Systems Research.
About the Journal:
AIS Transactions on Enterprises covers all relevant topics around enterprise systems (ES) like enterprise system architecture, project and life cycle related topics, strategy, ecosystems and markets. Its aim is to provide practitioners and scientists with the latest scientific knowledge on enterprise systems.
Information about the Special Issue:
Information Systems (IS) can be studied and designed on different levels. While individual and team/workgroup level IS use and design are classics of the IS discipline, enterprise-level IS had been investigated less frequently. Notable exceptions are Enterprise Systems (ES) and enterprise-level IS management approaches such as Enterprise Architecture Management (EAM) or IS Governance.
ES (such as ERP, CRM and the like) have long played an important role as operational backbone of most organizations with the increasing complexity of today's business relationships, the management of backstage integration as well as a flexible way of decoupling between backstage and frontstage ES are gaining importance. Beyond studying and designing ES, IS research covers enterprise-wide concerns also in fields such as EAM, enterprise modeling, organizational design, or is governance. The synergies between ES studies and these IS research fields have been under-researched as they are traditionally have been treated separately.
Topics of interest include but are not limited to:
Design and Management of Enterprise-wide Systems
Reference Models for Enterprise-wide Systems and Processes
Industry-specific adoption of Enterprise-wide systems
Approaches for Enterprise Application Integration
Enterprise Architecture Management
Enterprise-wide and cross-enterprise coordination (e.g., design principles, data standards, governance in digital platform-based business networks)
Interoperability of Enterprise-wide systems with the firm and along the supply-chain
The role of Enterprise-wide systems to support decisions (Data-driven decisions)
Decision Support for managerial decision-making on Enterprise-wide systems (e.g., Cloud vs. On-Premises vs. Hybrid)
Artificial Intelligence and Machine Learning in Enterprise-wide systems (Sales, Procurement, Logistics, Financial Accounting, Master Data Management)
Enterprise-wide Systems as Platforms: Openness of systems, new level of modularity of Enterprise-wide systems (Extensions)
Processes and Workflows in Enterprise-wide systems (Workflow Management Systems as part of Enterprise-wide systems)
Database Approaches in Enterprise-wide systems
Submissions may include, but are not limited to research papers (conceptual, theoretical, and empirical studies), as well as case studies, and best practices with managerial guidance. Both explanatory/descriptive and design research studies are invited.
Important Special Issue Dates:
Full paper submission deadline: On or before May 30, 2023
Questions can be directed to Dr. Benedict Bender: benedict.bender@wi.uni-potsdam.de
For a PDF version of this call for papers, please click here.